10/ 23/ 2019by SleeveyWonders Admin
The conference took place at the Novotel Hotel Bucharest, which also hosted her stay. It's located by Old Town, with a balcony that had this lovely view of the city's classic architecture.
Hair: New purple/red/blue ombre haircolor is by Chad Evans at Stratosphere Salon in Vancouver, Canada. He cut her bangs into a vampire V, and did a fishtail braid in the back. So happy with this new hairstyle!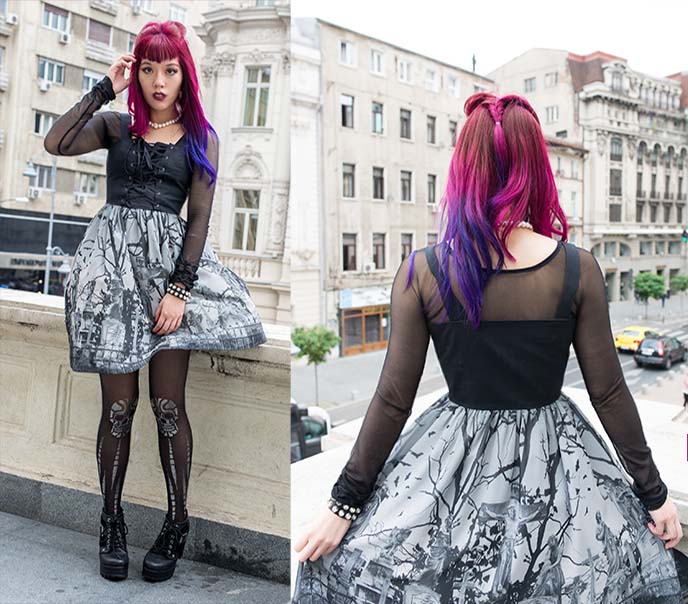 Above, LaCarmina is with Tudor Maxim (founder and one of the chief organizers) and Jeanette Ceja (travel TV reporter and expert), who spoke on the social media panel along with her.
For a long time, Romania has been an overlooked destination. However, the tide is turning thanks to Experience Bucharest / Experience Romania, the largest independent project to promote tourism in this fascinating country. The passionate team of volunteers invited 100 top travel bloggers, vloggers, digital influencers and media to discover Bucharest's many attractions, as well as take part in a day-long conference.
La Carmina is an alternative fashion/subcultures blogger, travel TV host, author of 3 books, designer and journalist for AOL Travel / Huffington Post. Her popular blog – http://www.lacarmina.com/blog – has been featured in major publications (The New Yorker, Washington Post, WWD, Village Voice, Cosmopolitan, Time Out New York, LA Times). She is a travel and pop culture journalist for CNN, Huffington Post, AOL and Lip Service. She was one of the 40 world's top fashion bloggers to be flown to LuisaViaRoma's event in Italy.